Monday April 11, 2016
CELEBRATION WELCOMING DOROTHY AGUILERA-BLACK BEAR TO WISDOM
Portland's Native American community along with our colleagues, partners, funders and the general public are invited to a special celebration welcoming our new deputy director to Wisdom of the Elders, Inc. The celebration will be held on Monday, May 16 at 5:30 pm at Ecotrust's Billy Frank Sr. Conference Center.
Wisdom enthusiastically welcomed Dorothy Aguilera-Black Bear, Ph.D. (Choctaw) to Wisdom in March. She and her husband Kashnapi (Lakota, enrolled member of the Rosebud Sioux Tribe) and two boys Isaac and Nace Black Bear, (Lakota, enrolled in the Rosebud Sioux Tribe) travelled from Boulder, Colorado to their new home in SE Portland. Kashnapi is a talented flute maker and musician, bringing back the traditions of the Northern Style Cedar Flute to the Lakota people.
We will introduce Dorothy and her family to our community at this event. She holds a Ph.D. in Educational Foundations, Policy and Practice from University of Colorado at Boulder. For the past two decades, she has worked to improve education policy and practice through community-based research with school communities in urban and rural settings that serve tribal and urban Native populations throughout the country. As a Native woman who has lived in reservation communities and in mainstream communities, she is sensitive to issues pertaining to restoring and preserving our cultural practices especially languages and has published on topics related to Native students' rights to their languages in schools, language policies, educational sovereignty and indigenous leadership.
Dorothy's role at Wisdom is a result of generous capacity building grants from Meyer Memorial Trust and The Collins Foundation. These funders are supporting Wisdom's Three Year Executive Transition Plan.  Wisdom's board approved the Executive Transition Plan in 2015.
Dorothy is expected to assume the executive director role at Wisdom in 2017. Co-founder and current executive director Rose High Bear will continue to serve as executive producer of Wisdom's documentary film series along with the culturally tailored multimedia curriculum, which is compatible with Native American learning styles that has been developed at Wisdom for the past decade.
SAVE THE DATE: JUNE 10, 2016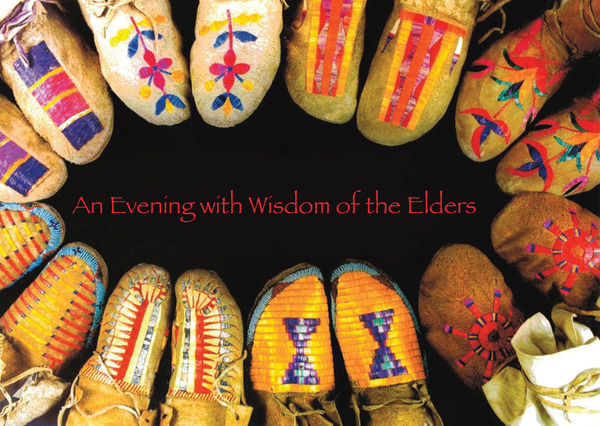 Friends, mark your calendars for Friday evening, June 10, 2016 so you can plan to join us at our annual "An Evening with Wisdom of the Elders."  Carma Corcoran and Rose High Bear called on James Mason, Ph.D. Chief Diversity Officer and Director of Culturally Competent Caregiving at Providence Health and Services last week.  He let us know that Providence Health and Services will serve as Presenting Sponsor for "An Evening with Wisdom of the Elders" for the third year.
Wisdom's fifth annual Native American cultural gathering includes music, dance plus our salmon dinner and silent auction. So watch for another update soon. We will be offering sponsorships, table sales and tickets shortly.
While Carma and Rose were meeting with Dr. Mason, he also agreed for Providence to sponsor Wisdom's upcoming symposium "Native Storytelling is Healing" being planned for September 2016. This first of a kind event was requested by our partner National College of Natural Medicine and is being organized by Wisdom board member Maria Valdez who is also a Naturopathic Physician and Professor at NCNM.
Wisdom's NISA Coordinator Nico Wind (Assiniboine and Ojibwe) is also consulting with Northwest Indian Storytellers Association Advisory Council members to plan the symposium. It will be held the month prior to our 11th Annual Northwest Indian Storytelling Gathering planned for Portland the weekend of October 7-9, 2016.

WISDOM WORKFORCE DEVELOPMENT CURRICULUM TRAINING IN PROGRESS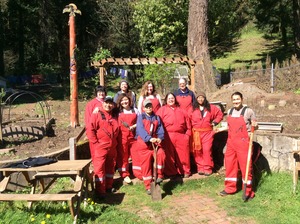 Wisdom Workforce Development interns are inviting Native community members to a consultation on Wednesday, April 20 at Zenger Farm.
Wisdom's first Wisdom Workforce Development Program launched in Portland in March with eight Native American adults on the first team of interns. The team is completing classroom training and service learning activities focused on environmental assessment and habitat restoration.
The interns have been working at Kelly Butte Natural Area identifying propagation sites for Erythronium oregonum, removing invasive species (English ivy), and general site maintenance (litter removal, identifying sites with poison oak, etc.). They are currently at Zenger Farm working in the 50-foot buffer around the organic farm by preparing the soil for a fall planting of traditional First Foods species.,
The team will continue through May at sites along the Springwater Corridor and at Beggar's Tick Wildlife Refuge where they will continue to learn about local threatened and endangered species, traditional First Foods, invasives, soils, pollinators, ecology, and climate impacts. Project partners include Portland Parks and Recreation, Portland Bureau of Environmental Services, Johnson Creek Watershed Council, Zenger Farm. Funding partners include Metro, East Multnomah Soil and Water Conservation District, East Portland Action Plan and Portland Development Commission.
NORTHWEST INDIAN

STORYTELLERS ASSOCIATION (NISA)

SPRING STORYTELLING GATHERING


Sunday May 1, 2016 10AM-7PM
Daybreak Star Arts and Cultural Center
Discovery Park
5011 Bernie Whitebear Way
Seattle, WA 98199
A day of traditional Native American storytelling with storytellers from the Pacific Northwest.
Lunch with traditional Native foods will be provided.
In addition to telling stories, the tellers will share in panels and workshops on the art and skill of storytelling to encourage audience members to become traditional storytellers.
Storytellers Featured:
Elaine Grinnell / Jamestown S'Klallam
Tammy Cooper / Nooksack
Lois Landgrebe / Tulalip
Raven Heavy Runner / Blackfeet
Jessica Dominy / Tlingit
Roger Fernandes / Lower Elwha S'Klallam
Toby Joseph / Ute & Apache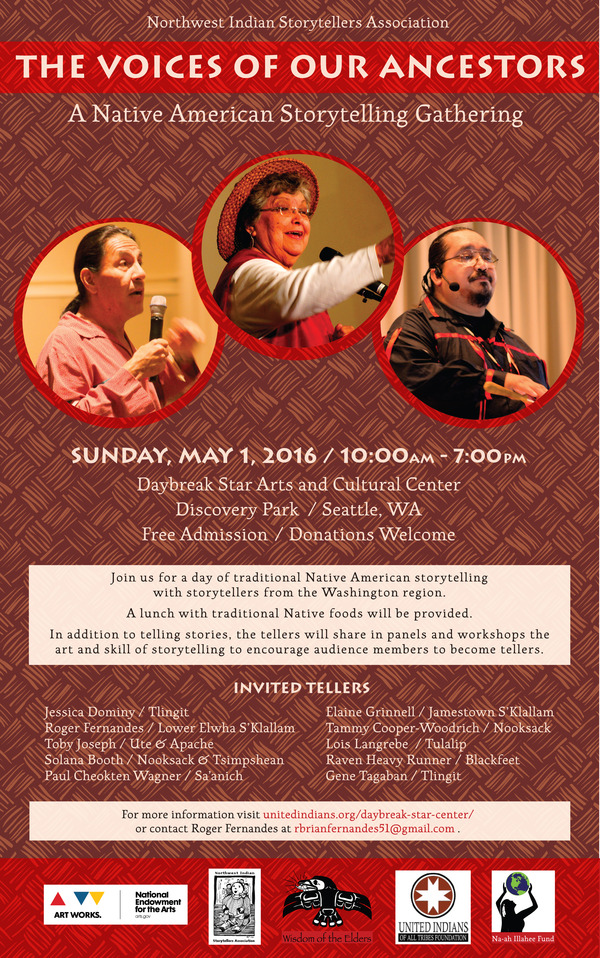 WISDOM OF THE ELDERS PEER MENTOR PROGRAM
Wisdom of the Elders is inviting Native American college-age students in the Portland area to serve as peer mentors for Discovering Yidong Xinag*. This Native American youth leadership initiative is designed to engage Native youth in environmental and climate studies through service learning by serving as peer mentors to middle school youth. They will have opportunities to learn about their local ecosystem, explore higher education in STEAM (science, technology, engineering, arts, and math) fields, and pursue STEAM career pathways. They will also learn how to produce a short video about local environmental/climate issues.
For more information, visit:
http://www.wisdomoftheelders.org/native-peer-mentorship/
To apply, visit: https://www.surveymonkey.com/r/CT32LHZ
*Yidong Xinag means "the old wisdom" in Deg Xinag dialect of Athabascan.